New Book
Bird on a Wire
from Presa Press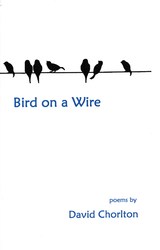 Here are some poems drawn from observations around Phoenix and some from taking stock of the news that comes at us daily.
Red light flashing in the sky: the neighbors
want to know.
It's six o'clock
and dark. The blades
spin, the motor roars, a beam
descends from high
to scan the streets.
Who is it looking for?
(from A Friday Morning)
Here too, more on the Southwest:
Some days
all that moves
is the coyote, loose
as gravel, and alert
to every sound as he melts
back into the foothills.
(from Nodoy's Land)
$13.95 Inquiries to DavidChorlton@centurylink.net